Introduction to the Formaster
Since 1982, Normac has manufactured the Formaster, a CNC grinding wheel dresser, to satisfy two requirements: sophisticated wheel dressing for our own machines and that of the grinding industry at large. Hundreds units in operation worldwide provide customers a very accurate method of dressing complex grinding wheel profiles quickly and easily.
The Formaster was designed to be small and compact, providing easy installation on nearly any grinding machine, yet also strong and rigid to assure the greatest possible accuracy. The Formaster breathes new life into old, outdated equipment. The Formaster is acknowledged as a successful OEM component for gear, broach, hob, bearing and thread grinding machines. It is the dresser of choice for leading manufacturers where accuracy of the grinding wheel profile is critical.
Leading world-wide manufacturers of super abrasive (CBN and Diamond) grinding wheels report great success including improvements in both productivity and quality of the product. CBN series dressing stations are also a main component in manufacturing HSS and carbide hobs in the USA, Europe and the Far East. With every Formaster, Normac provides free lifetime support in programming, grinding wheel dressing techniques and selection of the best dressing tools.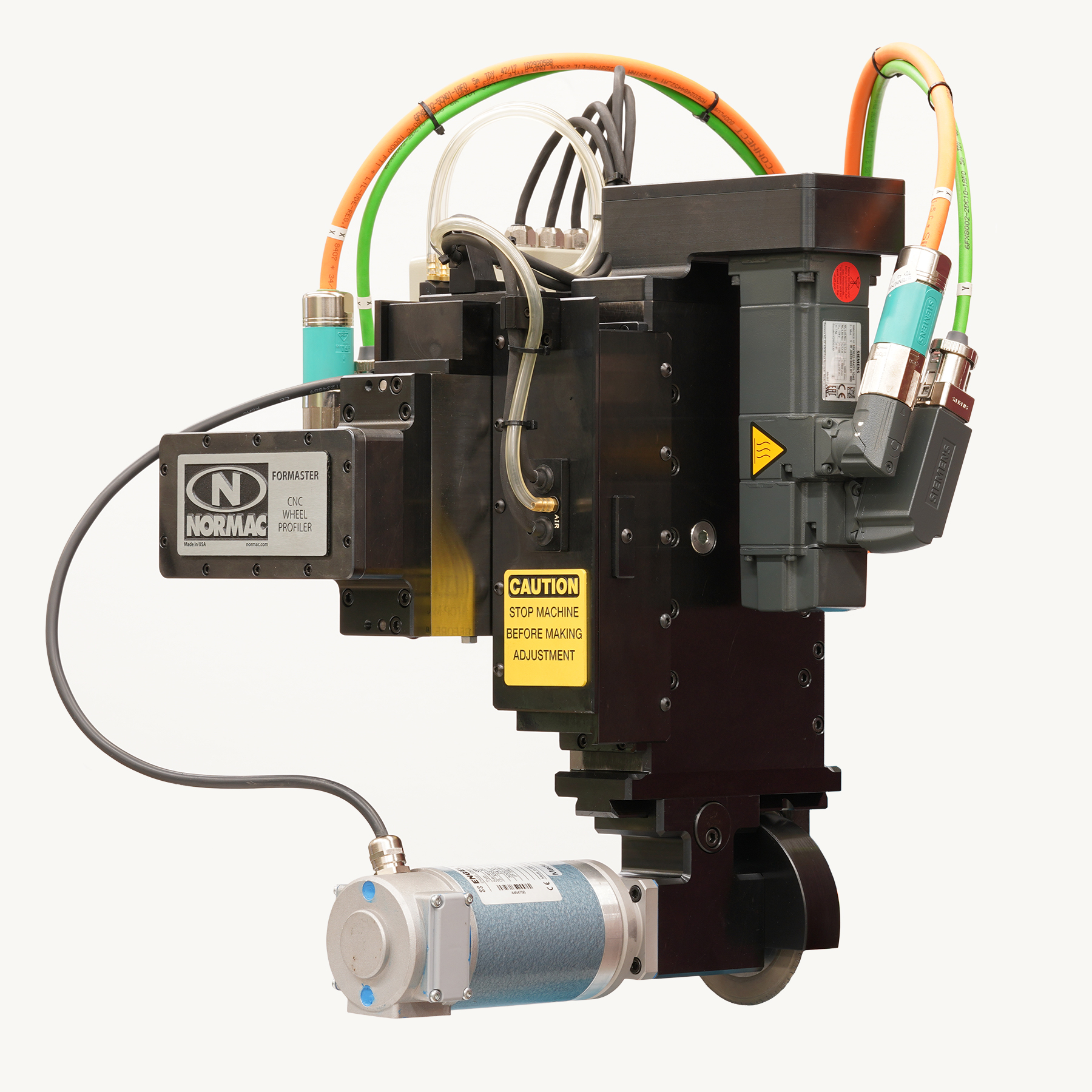 Formaster Advantages
Accuracy
Superior design and construction enables the Formaster to maintain tolerances unparalleled by competitive units. Anti-friction needle bearing ways are precisely fitted and preloaded during assembly to provide less than 0.002mm positioning error throughout the entire slide travel. The result is a mechanical system capable of inspection gauge accuracy, handling the most critical grinding wheel dressing requirements.
Ease of Programming
The Formaster two axis design simplifies programming. The CNC is supplied with a graphical user interface for program verification and is expandable to four axis control. Application software and custom displays remove the burden of complex math calculations and typical NC programming. This system enables you to grind whatever you design. Stand-alone special software to convert DXF format files to Formaster CNC programs is available.
CNC Operator Displays
Formaster's cycles and screens are created to provide a user-friendly environment for the operator. HMI CAD reader makes conversion from DXF CAD files to G-code part programs simple and easy.
Versatility
The Formaster is both compact and light-weight. Adapting it to virtually any grinding machine is quick and easy. Successful installations have been made on surface grinders, OD external grinders, centerless grinders, broach and gear grinding machines and many others. Units offering different X Y travel capabilities are available to suit your specific application. Choose Siemens or Fanuc CNC or even no control at all in certain situations.
Durability
Low maintenance, long life and trouble-free operation are hallmarks of all Normac products. The Formaster is a positively mechanically sealed system, and is air-purged and automatically lubricated to assure dependable operation and eliminate costly down-time.
Profitability
Hundreds of Formaster users report dramatic setup and production time reductions over previous dressing methods. Manufacturers of form tools, punches, dies, gears, broaches and other cutting tools are using the Formaster, not only to save time and money, but to improve accuracy and quality. Grinding machine manufacturers are using the Formaster as a key component on new machines.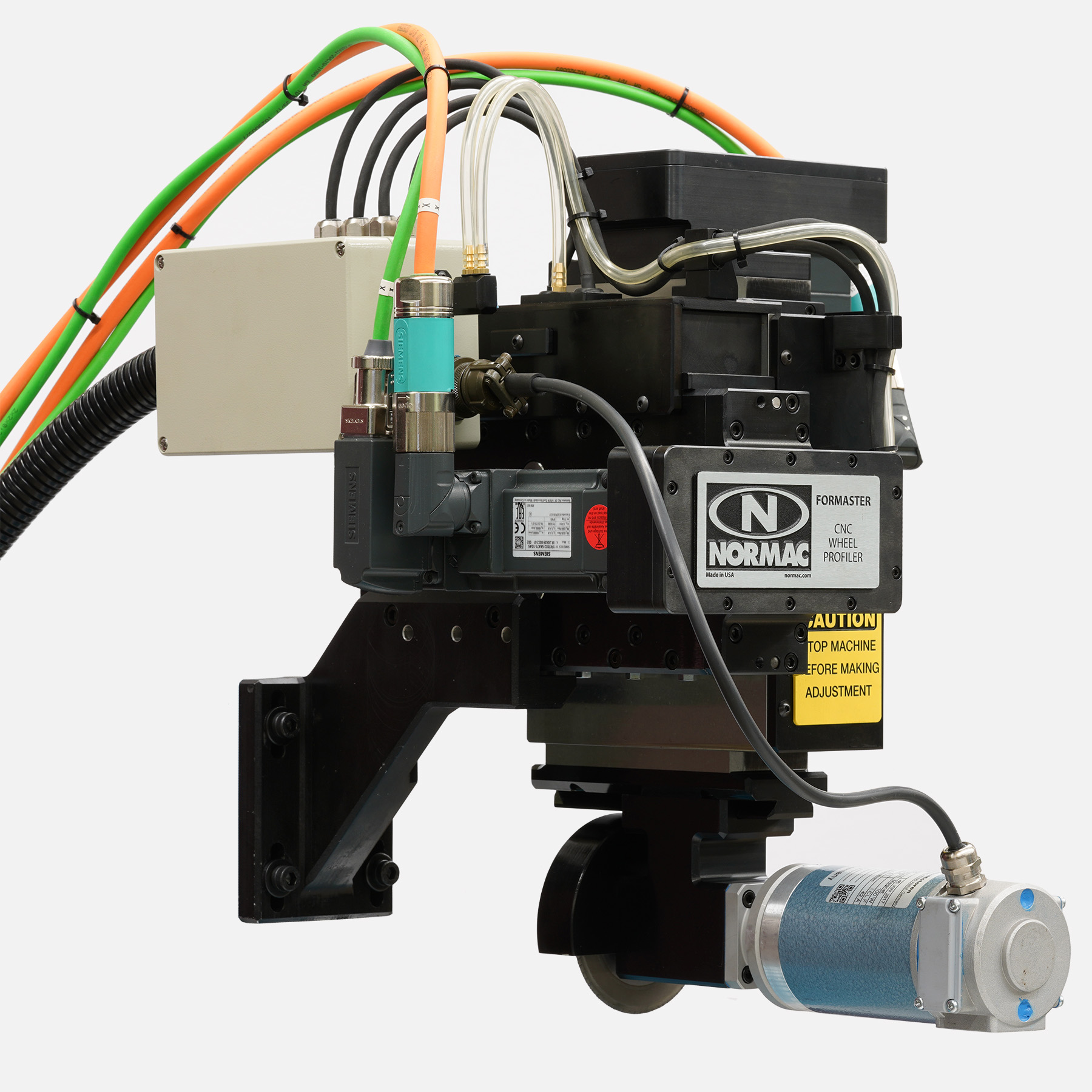 Formaster Models
FM Series
Composed of the FM22 (pictured), FM42, FM62 and optionally other configurations, the FM Series is our standard line of Formaster dressers. The difference between the members of the FM series is strictly the X-Y travel they are capable of. The model numbers roughly express the travel in inches. Actual travel of the FM22 is 65mm x 65mm (2.5in x 2.5in), the FM42 is 115mm x 65mm (4.5in x 2.5in) and the FM62 is 170mm x 65mm (6.7in x 2.5in). FM Series CNC dressers are configurable with either a Siemens 828D sl control or a Fanuc 0i control, or in special circumstances with no control at all.
FMa Series
The FMa2 is our entry-level Formaster dresser, with a travel of 60mm x 60mm (2.3in x 2.3in). Each FMa2 features an operator-friendly machine interface, servo-motors with absolute encoders, SKF linear bearings and super-precision lead screws. Unlike the FM Series dressers, the FMa2 does not come equipped with scales. Despite the lower cost of the FMa2, this is a true Formaster; there is no compromise on quality.
Dressing Stations
At times it may be preferable to dress the grinding wheel away from the machine it actually grinds on. In this way the grinding machine is kept busy without the need to wait for wheel dressing. When it is time to change the wheel, the new wheel is ready with no delay. This is made possible by Normac dressing stations employing our Formaster dressers. We can configure a dressing station ideal for your application, just ask.